State Bar of Texas, 2008.
Law Clerk to Mark Hatten, Partner at Shannon, Gracey, Ratliff & Miller, LLP (2007).
Landman at Maverick Land Services, Inc. (2008 – 2009).
Associate at Flowers * Davis, PLLC (2009 – 2012).
Board Certified – Oil, Gas & Mineral Law, Texas Board of Legal Specialization.
Education
Master of Business Administration, Letourneau University, 2013
Juris Doctor, Texas A&M University School of Law, 2007
Psychology, B.S., Letourneau University, 2005
Representative Experience
Counsels energy clients on a variety of day-to-day issues relating to leasing, drilling, production, and operation of their oil and gas properties.
Represents exploration and production companies in the acquisition and divestiture of producing assets and undeveloped acreage.
Represents clients in the negotiation and preparation of a vast array of mineral development documents, including purchase & sale agreements, leases, assignments, title curative documents, farmouts, joint operating agreements, participation agreements, and surface use agreements.
Prepares drilling, supplemental, leasehold, acquisition, and division order title opinions covering acreage throughout Texas.
Advises operators and non-operators on their rights, duties, and obligations under joint operating agreements and joint development agreements.
Conducts due diligence on behalf of clients acquiring both producing and non-producing acreage.
Professional Activities, Memberships & Affiliations
Oil, Gas, and Energy Resources Law Section and Business Law Section of the State Bar of Texas
Adjunct Professor, Letourneau University, American Constitutional Law (2012 – Present)
State Bar of Texas
Gregg County Bar Association
American Association of Petroleum Landmen
East Texas Association of Petroleum Landmen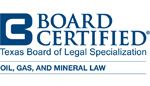 Established on 3 Principles

We strive to be a trusted source of legal guidance for our community.

We serve today's generation so that future generations are protected.

We serve our clients with answers to challenging legal questions.
Decades of Legal Experience & Knowledge By Your Side