Attorney Westbrook brings with him an eight-year career as an independent petroleum landman and began law practice with the Midland firm of Stubbeman, McRae, Sealey, Laughlin & Browder, working exclusively with Jad Davis. In 1991, joined the law firm of Sharp, Price, Griffith and McCollum, with a concentration in Commercial and Energy litigation. He then joined the firm of Coghlan, Crowson, Fitzpatrick & Westbrook in 1994.
State Bar of Texas (1988)
Board Certified – Oil, Gas & Mineral Law, Texas Board of Legal Specialization. Concentrating in Oil, Gas and Mineral Law, and general Civil Litigation, including oil & gas, condemnations, class actions, and commercial litigation.
Education
Doctor of Jurisprudence, Baylor University, 1988, graduating in the top 15% of class
Bachelor of Science, with honors, University of Texas at Tyler, 1985
Representative Experience
Represent large royalty owners, operators, utility companies, mid-stream purchasers, etc., in both state and federal court
Counsel energy clients on a variety of day-to-day issues relating to leasing, drilling, production, and operation of their oil and gas properties
Represent exploration and production companies in the acquisition and divestiture of producing assets and undeveloped acreage
Represent clients in the negotiation and preparation of a vast array of mineral development documents, including purchase & sale agreements, leases, assignments, title curative documents, farmouts, joint operating agreements, participation agreements, and surface use agreements
Prepare drilling, supplemental, leasehold, acquisition, and division order title opinions covering acreage throughout Texas
Advise operators and non-operators on their rights, duties, and obligations under joint operating agreements and joint development agreements
Conduct due diligence on behalf of clients acquiring both producing and non-producing acreage
Professional Activities, Memberships & Affiliations
Admitted to practice before The U.S. District Courts for the Eastern, Western, and Northern Districts of Texas
Member: State Bar of Texas; Gregg County Bar Association; and Rocky Mountain Mineral Law Institute
Received an "AV" rating from peers as determined by Martindale-Hubbell's ratings for legal ability and ethical conduct
Reported Appellate Cases
OXY USA, Inc. v. Cook, 2003 WL 21499383 (Tex.App.Tyler, 2003)
Morris v. Dearborne, 181 F.3d 657 (5th Cir Tex., 1999) and 69 F. Supp. 868 (E.D.Tex., 1999)
Love of God Holiness Temple Church v. Union Standard Ins. Co., 860 S.W. 2d 179, (Tex.App. Texarkana, 1993)
Lone Star Industries, Inc. v. Ater, 845 S.W.2d 334, (Tex.App.El Paso, 1992)
Helen Butts-Tipps, et al v. Chinn Exploration Company, et al 06-00033-CV (Court of Appeals-Texarkana 2014, pet. denied)
Cabot Oil & Gas Corporation v. Healey, LP, 12-11-00236-CV (Court of Appeals – Tyler, 2013, pet. denied)
Brammer Petroleum, Inc. v. Bagley Minerals, LP, et al 06-15-0091 CV (Court of Appeals- Texarkana 2016)
Hydrogeo, et al v Quitman ISD, et al 06-15-00007 CV (Court of Appeals – Texarkana, 2016)
Felicia Pierce v. Debbie Blalack, et al, 06-17-00013-CV (Civ. App – Texarkana 2017) no pet.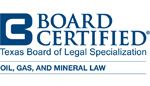 Established on 3 Principles

We strive to be a trusted source of legal guidance for our community.

We serve today's generation so that future generations are protected.

We serve our clients with answers to challenging legal questions.
Decades of Legal Experience & Knowledge By Your Side